Democratic Money Jitters Ease After Big Second Quarter Haul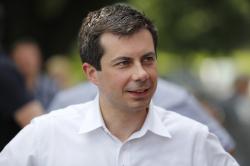 Some big fundraising hauls by Democrats are easing worries that lackluster totals last quarter were a sign the party would struggle to stockpile cash for the general election fight with President Donald Trump.

Second quarter totals must be reported by the end of Monday. But early glimpses some campaigns offered show they collectively raised about $96 million, putting them within striking distance of the $105 million raised by Trump and the Republican National Committee.

Pete Buttigieg led the field of Democratic White House hopefuls with $24.8 million, followed by former Vice President Joe Biden, who raised $21.5 million. Massachusetts Sen. Elizabeth Warren came in third with $19.1 million.

Others haven't announced their numbers but are certain to have pulled in far less, raising questions about their viability.
Copyright Associated Press. All rights reserved. This material may not be published, broadcast, rewritten, or redistributed.
Comments on Facebook