Watch: NYC's Gay Street Renamed to More Inclusive Acceptance Street for Pride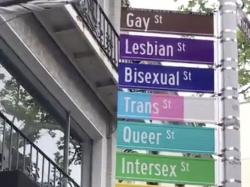 Happy Pride to New York's LGBTQ+ community!

New York City's historic Gay Street has been renamed to Acceptance Street for Pride Month.

Located in the Big Apple's West Village, near the Stonewall Inn, the new sign features 11 street signs in all various colors: Gay (brown), Lesbian (purple), Bisexual (blue), Trans (pink, blue and white), Queer (teal), Intersex (green), Asexual (yellow), Nonbinary (orange), Pansexual (red), Two Spirit (pink), and + (black).

The installation will remain up for the rest of Pride Month, according to Good Morning America. The installation was supported by the New York City Commission on Human Rights and underwritten by credit card company MasterCard.

Watch a video of the unveiling below.



Comments on Facebook