1 thru 10 of 1806 Stories
The Church of Jesus Christ of Latter-day Saints announced its opposition Monday to a comprehensive nondiscrimination bill that faces long odds in Congress.
A 220-year-old Catholic girls' school in Washington, D.C., will now allow news about same-sex unions in its alumnae magazine.
Pope Francis issued a groundbreaking law Thursday requiring all Catholic priests and nuns around the world to report clergy sexual abuse and cover-up by their superiors to church authorities.
The Church of Jesus Christ of Latter-day Saints changed wedding rules Monday in hopes of preventing family members who aren't church members from feeling excluded.
Democratic presidential candidate Pete Buttigieg (BOO'-tuh-juhj) and his husband, Chasten Glezman, joined the large crowd at former President Jimmy Carter's Sunday school class in rural South Georgia.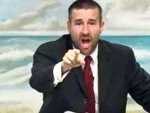 Extremist preacher Steven Anderson has been barred from entering the Netherlands. Anderson notoriously praised the mass shooting at Pulse nightclub, saying the fifty people murdered in the shooting meant "there's fifty less pedophiles in this world."
If liberals want to know why President Trump isn't held to a higher standard of moral accountability by America's evangelicals, Bryan Fischer has an answer for them. Because, Buttigieg!
Eight middle-school confirmation class members have decided against joining an Omaha Methodist church in protest at the denomination's renewed ban on same-sex marriage and gay clergy.
The United Methodist Church's judicial council on Friday upheld major portions of a new plan that strengthens bans on same-sex marriage and ordination of LGBT pastors.
A Roman Catholic social services agency that declines to place children with same-sex couples has filed a lawsuit to stop Michigan from penalizing the group if it sticks to its policy on foster care and adoption.
1 thru 10 of 1806 Stories