A Northern California high school says its varsity football season has been canceled following four players being cited by police for sexual battery after a teammate reported he was assaulted on campus.
American heptathlete Erica Bougard says she wasn't trying to make an international political statement against Qatar's anti-LGBTQ policies. She was just wearing her favorite high jump shoes.
Mets slugger Pete Alonso visited the National September 11 Memorial & Museum on Tuesday to donate the custom cleats and baseball bat honoring first responders that he used in a game on the 18th anniversary of the terrorist attacks.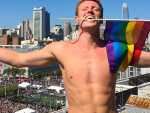 A swimmer for Stanford University who made headlines last year for coming out as gay took to Instagram this week to allege college coaches booted him from the team because of his sexuality.
Everlast — the company best known for making pugilism equipment such as boxing gloves — has chosen Patrico Manuel, a transman and professional boxer, to rep its line in a historic new chapter to Manuel's inspiring story.
Chicago Bears offensive lineman Kyle Long joined in on the joking after teammate Tarek Cohen, a running back, posted a post-game video that, unbeknownst to either men, featured a fully nude Long in the background.
For decades, the message to women in track and field was crystal clear: get pregnant, lose sponsorship money.
Major League Baseball has entered the Boom/Bust Era.
Jennifer Lopez and Shakira are going to bring the heat to the 2020 Pepsi Super Bowl Halftime Show.
A New Orleans sports talk show host was targeted with an anti-LGBTQ slur on his own station's Twitter feed earlier this month. That host, Seth Dunlap, has now submitted to a voluntary polygraph to prove that he is not behind the slur.