High-end designers are "upcycling" discarded objects into unique, desirable design pieces.
Who's minding the store? In the not-too-distant future it could be cameras and sensors that can tell almost instantly when bruised bananas need to be swapped for fresh ones and more cash registers need to open before lines get too long.
Eyeing that can of soda in the supermarket cooler? Or maybe you're craving a pint of ice cream? A camera could be watching you. But it's not there to see if you're stealing. These cameras want to get to know you and what you're buying.
The "lord," as in Scott Disick, is spinning off and flipping out of the Kardashian family bubble with his own E! show.
The American Society for the Prevention of Cruelty to Animals has reported a more than 700 percent increase in calls related to marijuana to its poison center in 2019.
Potheads have for decades celebrated their love of marijuana on April 20, but the once counter-culture celebration that was all about getting stoned now is so mainstream Corporate America is starting to embrace it.
Toothpaste delivered in two days is convenient, but not so great for the environment.
Sequential Brands Group, which bought the Martha Stewart brand nearly four years ago for about $353 million, said Tuesday that it is selling it to Marquee Brands for about $175 million.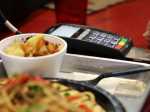 Cash-free stores are generating a backlash among some activists and liberal-leaning policymakers who say the practice discriminates against people who either lack bank accounts or rely on cash for many transactions.
It's a great time to be a landlord in America, not so much if you're a renter.