Rainbow Proud at the New York Times Travel Show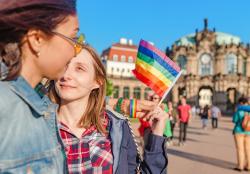 Travel enthusiasts descend upon New York City this weekend for the epic New York Times Travel Show. More than 700 destinations, tour operators and travel experts will be present to offer their insights on the hottest travel spots for 2020 (EDGE named London, San Francisco, Dallas and Quito as our top picks.)

Queer travelers and their allies will find a special rainbow enclave at the LGBTQ Travel Pavilion, where 28 tourism brands will be offering trip-planning inspiration, experiences, tours, cruises, travel packages, hotels, luggage, travel insurance, free apps and special pavilion-only offers. Weekend highlights include a performance by Rachel Gollay (1:30 p.m., January 25), Drag Queen Story Hour (noon, January 26), and Hack Your Trip! (2 p.m., January 26), which offers insider travel tips. Click here for full schedule.
EDGE chatted with Ed Salvato, guru of all things LGBTQ travel and co-founder of HospitableMe, which provides strategy and training for the hospitality and tourism industries, about what's trending for 2020.

Bring on the Lesbians
"The rise... No for real!... of lesbian travel. We're seeing some very interesting trends around lesbian travel," says Salvato. "The major news is Out Adventures, which is a very successful tour operator that has been in business for ten years, has launched a lesbian travel branch in partnership with one of the best known lesbian travel bloggers and influencers Meg Ten Eyck."

Safety First
"Destinations and other tourism brands are starting to take LGBTQ travel safety very seriously. Fort Lauderdale and Discover Puerto Rico are on the leading edge of marketing to LGBTQ travelers," says Salvato. "Puerto Rico is going to the next level and delivering LGBT sensitivity training to customer-facing hospitality providers among their partners all over the island in both English and Spanish."

Home Away From Home
"The rise of LGBT versions of AirBnB: Misterbnb has been in the business for a number of years, offering a platform for gay male travelers so they can be safe everywhere in the world. But there are a few new ones, including FabStayz, which is a marketing platform that brings together all of these LGBT shared accommodations. And Gaybnb, based in Australia. We're seeing more and more that LGBTQ people are not feeling necessarily safe and welcome at accommodations that aren't vetted for their friendliness towards the queer community."

The New York Times Travel Show is January 24-26 at Jacob J. Javits Center, New York City.
Matthew Wexler is EDGE's National Senior Editor of Travel, Lifestyle, Health & Branded Content. More of his writing can be found at
www.wexlerwrites.com
. Follow him on
Twitter
and
Instagram
at @wexlerwrites.

This story is part of our special report titled "Winter 2020." Want to read more? Here's the full list.
Comments on Facebook