Gay San Francisco: The Latest
It's a campaign focus this weekend on economic issues important to the black community for some of the Democratic presidential candidates.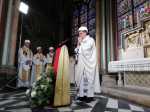 The archbishop wore a hard-hat helmet, burnt wood debris was still visible and only about 30 people were let inside, but Notre Dame Cathedral on Saturday held its first Mass since the devastating April 15th fire.
Voting rights activists argue that newly discovered 2015 correspondence between a GOP redistricting expert and a current Census Bureau official bolster arguments that discrimination motivated efforts to add a citizenship question to the 2020 census.
Shoppers and employees have described terror and chaos as shots rang out inside a busy California warehouse store as a gunman in an argument near the freezer section opened fire — killing one man, wounding two and sparking a stampede.
Taylor Swift made a surprise performance at an iconic gay bar a day after releasing a song supporting the LGBTQ community.
The cult comedy "Napoleon Dynamite" turns 15 years old this month, a milestone for a movie that became an early breakaway hit in today's era of pop-culture geek celebration.
Planned Parenthood is building the stage for another possible fight over abortion in Alabama: a large women's clinic that's under construction despite the state's passage of a near-total ban on abortions.
None of these is legit, even though they were shared widely on social media. The Associated Press checked them out. Here are the real facts.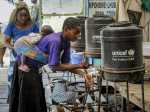 The World Health Organization on Friday said the Ebola outbreak is an "extraordinary event" of deep concern but does not yet merit being declared a global emergency.
Liberal environmental activist and lawyer Zuzana Caputova was inaugurated Saturday as the first female president of Slovakia.

The cast of Fox & Friends showed their support for the Texas "Save Chick-fil-A" Bill Wednesday with a segment catered by Chick-fil-A.
San Francisco, CA
The elephant in the room has nothing on absurdist playwright Eugene Ionesco's play, which director Frank Galati translates into a finely tuned and titanically pleasing new production.
Naomi Wolf's U.S. publisher is postponing the release of her new book, "Outrages," after a BBC interviewer challenged some of her findings. Wolf is openly objecting to the delay.
With Zimbabwe's economy in shambles and political tensions rising, leaving the country seems the best option for many who are desperate for jobs. But those dreams often end at the passport office: A passport now takes no less than a year to be issued.
Alarmed by President Donald Trump's willingness to accept foreign dirt on a political opponent, House Democrats are accelerating their efforts to strengthen election security ahead of the 2020 campaign.
Tens of thousands of Americans each year are dropped by their insurers over payment issues, sometimes with little or no prior warning from their insurers.
The Honda Pilot has always been a strong choice for a midsize three-row crossover SUV. But Kia has recently introduced an all-new model known as the Telluride that it hopes will attract shoppers with its bold styling and value.
The fast-growing market for meat alternatives has a surprising new player: Tyson Foods.
New York eliminated the religious exemption to vaccine requirements for schoolchildren Thursday, as the nation's worst measles outbreak in decades prompts states to reconsider giving parents ways to opt out of immunization rules.
A posh Northern California hotel was ordered to pay $1.6 million in penalties Thursday for failing to provide public access to its nearby beaches.
San Francisco, CA
Full-on celebrations, select nights and ultra-rainbow nights await you.

DC natives Lionize opened a packed show for with Wolfmother all the way from Australia for this East Coast tour show at the 9:30 Club.