Gay San Francisco: The Latest
Fox Television says "Empire" actor Jussie Smollett "continues to be a consummate professional on set" and it has reiterated that he's not being written out of the show.
The office of Serbia's openly gay Prime Minister Ana Brnabic says her partner has given birth to a baby boy.
TMZ is reporting that Jussie Smollett's scenes in the upcoming season of "Empire" on Fox will be cut due to the controversy surrounding his alleged attack.
Nelson Bardales, a chef at Tu Tierra restaurant in Miami, told the media that a Feb. 10 assault that left him with fractured facial bones — an assault captured on security cameras — came out of the blue from a complete stranger.
Two men who placed an order at a Little Caesar's Pizza in Henrico Country, Virginia, found that the word "Gay" had been printed on their receipt.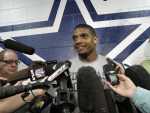 The first openly gay football player to be drafted by the NFL, Michael Sam, told students at the University of New Mexico about his experiences - and shared the kind of support that he himself has received.
Grant Holloway, a world leader in both the 60m and 60m hurdles, had a busy day back home in Gainesville, Florida, earlier this month.
Inherited diseases of the eye account for at least 2 million cases of blindness worldwide. A few hundred genes that cause eye disease have been identified, but in many cases the cause is unknown because not all eye disease genes have been identified.
The Supreme Court is declining to get involved in the corruption case against former Illinois congressman Aaron Schock.
After debuting at the Sundance Film Festival earlier this year, the trailer for the upcoming HBO Michael Jackson documentary "Leaving Neverland" got its first trailer.
Fort Lauderdale prepares for its 2019 celebrations, but that's just the beginning of what to experience in Florida's LGBTQ mecca.
"How to Train Your Dragon: The Hidden World" lacks the heart and emotional scale found in the previous two entries of the franchise, but it's still a fun, beautifully animated adventure worth taking.
An index of investor confidence in Germany has improved slightly but remains well below its long-term average amid ongoing signs of weakness in Europe's largest economy.
Senior White House officials pushed a project to share nuclear power technology with Saudi Arabia despite the objections of ethics and national security officials, according to a new congressional report.
A personal account of how medical bills can amplify the struggle families face during a critical illness.
The European Union on Tuesday reached a tentative agreement on the first specific EU standards for trucks, seeking to get polluting CO2 levels down.
The chief executive and chief creative officer of luxury fashion powerhouse Burberry have apologized for putting a hoodie with strings tied in the shape of a noose on their London Fashion Week runway.
For some older people, the joy of sex may be tempered by financial concerns: Can they afford the medications they need to improve their experience between the sheets?
The five-star Majestic Hotel & Spa Barcelona has unveiled five unique experiences that highlight the city's finest qualities.
San Francisco, CA
Can you stand the sheer variety of nightlife fun yet to come? What if you closed your eyes and just pointed at the listings page, web or print? Go where you've never been before. Make adventure where you can find it, even in your own zip code.

The annual Cupid's Undie Run in Philly, raises money for the Children's Tumor Foundation. Check out these fun photos.