Gay San Francisco: The Latest
Dave Matheson, one of the country's foremost practitioners of so-called "conversion therapy," has a message: It didn't work for him. But he stops short of admitting it just doesn't work, period.
Controversial YouTuber Logan Paul is apologizing for comments he made on his podcast earlier this month in which he said he planned on "going gay" in the month of March for a New Year's resolution.
When home sales weaken, prices typically do, too, and buyers benefit. Not quite this time.
Cardi B will have her first Last Vegas residency this spring.
Rudy Giuliani's latest media blitz, full of a dizzying array of misstatements and hurried clarifications, agitated President Trump and some of his allies, who raised the possibility that Giuliani be at least temporarily sidelined from TV interviews.
"Medicare-for-all" makes a good first impression, but support plunges when people are asked if they'd pay higher taxes or put up with treatment delays to get it.
During a recent performance at her Las Vegas residency, Lady Gaga took the time to call out Vice President Mike Pence and his wife Karen over their LGBTQ views.
Anti-LGBTQ hate group Liberty Counsel has a new client: A practitioner of "conversion therapy" seeking an injunction against a state law banning the practice from being inflicted on minors.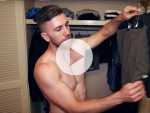 YouTube fitness expert Tyson Edwards offers his favorite picks for a stylish workout.
Democrat Pete Buttigieg, the 37-year-old mayor of South Bend, Indiana, says he's forming an exploratory committee for a 2020 presidential bid.
A sharply divided Supreme Court is allowing the Trump administration to go ahead with its plan to restrict military service by transgender men and women while court challenges continue.
San Francisco, CA
"When We Were Young & Unafraid" at Custom Made Theatre provides the best possible example of why you should sometimes warn audiences about certain content. In this case, domestic abuse and sexual assault.
A complete 180 from his debut film, 2011's "Attack the Block," Joe Cornish's 8-years-later sophomore effort "The Kid Who Would Be King" is a pedestrian blockbuster that is fine family fare despite its lack of aesthetic pleasures.

When gunmakers and dealers gather this week in Las Vegas for the industry's largest annual conference, they will be grappling with slumping sales and a shift in politics that many didn't envision two years ago.
When it comes to their views on climate change, Americans are looking at natural disasters and their local weather, according to a new poll.
GoFundMe, the largest online, crowdsourced fundraising platform, says contributors have raised more than $5 billion, all told, from 50 million donations in the eight years it has been in business.
Google's self-driving car spinoff Waymo said Tuesday it will bring a factory to Michigan, creating up to 400 jobs at what it describes as the world's first plant "100 percent" dedicated to the mass production of autonomous vehicles.
Chanel's octogenarian designer Karl Lagerfeld, who has looked increasingly frail in recent seasons, did not come out to take a bow at the house's couture show in Paris, something the company attributed to him being tired.
A New York-LA-based medical services company published a survey of penis size by state.
Many visitors to Sedona come looking for something in addition to its beauty. Native American legend recounts a spot where the earth's energy is supposedly concentrated and crackling. The vortex.
San Francisco, CA
Follow a popular New Year's resolution into 2019; sweat off a bit of winter weight on the dance floor, or stack it on at a food truck outside the club. No judgment.
The sky over San Francisco brightened up to welcome 6,000+ people to this year's Women's March. Community activists from every minority group came out to support women across the US!